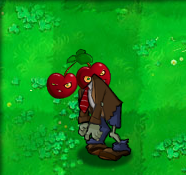 The Cherry Bomb Zombie can be annoying, and sometimes easy to kill. He takes 17 hits. This zombie blows up right away like a Cherry Bomb as soon as it has been on the lawn for 15 seconds. All plants in a 3x3 area are destroyed by the explosion instantly.
Cherry Bomb Zombie

Toughness:

Medium

Health:

17 normal damage shots

Special:

explodes after some time onscreen
Ad blocker interference detected!
Wikia is a free-to-use site that makes money from advertising. We have a modified experience for viewers using ad blockers

Wikia is not accessible if you've made further modifications. Remove the custom ad blocker rule(s) and the page will load as expected.