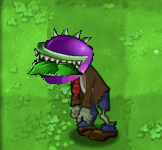 The Chomper Zombie is a ZomBotany Zombie with a head of a Chomper. It takes 20 hits, and eats plants. It cannot eat Tall-nuts, but it severely damages it. It also needs to stop for 15 seconds to eat plants. It can eat Narwall-Nuts, but loses 5 health every 10 seconds.
Chomper Zombie



Toughness:

Medium

Health:

20 normal damage shots

Special:

eats plants whole

Plant Food:

Eats 3 plants, and pushes them back when stops eating.