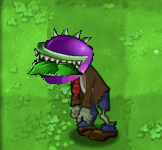 Welcome to the ZomBotany Plants vs. Zombies Wiki!
Welcome! This wiki features ZomBotany Zombies from Plants vs. Zombies. You can also make your own ones! If you have no idea what I am talking about, this is a wiki about an infamous mini-game in Plants vs. Zombies called ZomBotany where all zombies have Peashooter heads and Wall-nut heads. They also made a second one! (with Tall-Nut Zombies, Squash Zombies, Gatling Pea Zombies, and Jalapeno Zombies). Click Here
Latest activity
Staff
These are the staff members of this wiki. Unless otherwise indicated, all are inactive.
Founder
The founder created this wiki. They are colored black.
These people promote users and are admins. They are colored blue.
These users can delete and undelete pages, protect and unprotect pages, and block and unblock users. They are colored green.
Chat Moderators
These users can ban users from chat and make other users chat moderators. This group also includes admins and bureaucrats. They are colored orange.
Rollbacks
They can revert bad edits in just one click. They are colored red.